Why not live in the park?
Yes, it can be done without hacks although there is a Global Hack you can use/try over at Mod The Sims if you want, but I haven't tried it.
Total cost: 114,485
Anyway, I set up a test one of these parks and put a newly created Sim into it and it can be done with this park which is set to residential. Yes it is expensive, but considering the size of the Lot, plus everything in it, you can't expect much lower without removing a lot of it's aesthetics. With this lot you are only restricted by the types of foods your Sims can cook/eat, but the best part is you can catch fish to grill on the BBQ and you all know what that means (Sparkly/Filling food). 😀

For those that just want this as a Park (Community Lot), there is a link below. There are only a few differences between the two Lots, one is Residential and one is Community, And the Gazebo in the middle is obviously different with one containing a bed, etc and the other one some seats and a fireplace (image below) anything else are minor changes.
Included on the Lot: Single bed for Sleeping, a Bookcase for Studying most skills (as usual), Chess for Logic, Easel for Creativity, BBQ for grilling your Fish/Hamburgers/Hotdogs, Showers/Toilets for Hygiene/Bladder, Mirrors for Charisma, a Swing and Hot Tub for Fun, the ability to purchase a mobile phone for Communication/Social, Snack Machines for obvious reasons 😛 , a bonfire for toasting Marshmallows or keeping warm and a River for catching Fish/Food. For Body skill you will need to do Skipping, then go Jogging when you have that option. Note: I have removed the residential phone seen on the coffee table since taking the screenshots.
I have all EP's installed and M&G.
Does not contain CC or Hacks.
Download Park Living (Residential Lot) Here!
Calipip Sims Park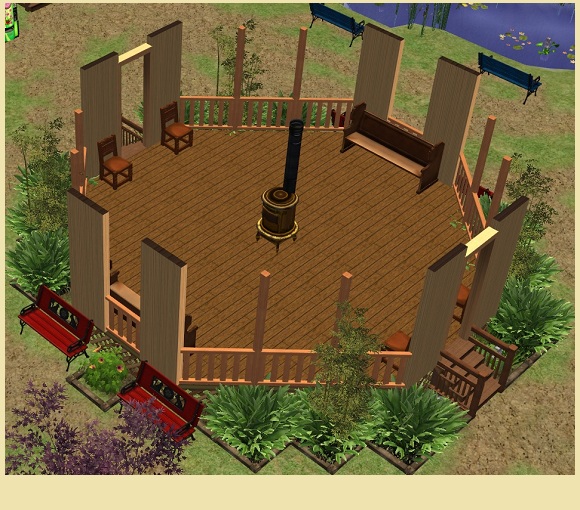 Download the Park (Community Lot) Here!
Anyway, it's not as hard as you think to get your Simmies living the simple life.
Tip: Shower your Sim often to keep warm in winter as it gets pretty darned cold. 😉